Brilliant Cut Glass For Restaurants
Posted by:
Admin
Tags:
Brilliant Cut Glass For Restaurants
Posted date:
17-03-2016
Brilliant Cut Glass For Restaurants
Brilliant cut glass has been used in restaurants all around the world for decades now. It can add a tremendous amount of style and elegance to any room.
Within restaurants, it can also add art to functional things such as glass dividers and doors. At the start of the Victorian era, brilliant cut glass was reserved for the rich as they were the only ones that could really afford it. But when the price of glass dropped significantly, it opened it up as an option to everyone.

We still use the same method of glass cutting as the artisans used back then. This is because a machine can not beat the methods they used. The traditional methods allow for an authentic piece of one-off art to be created that is striking and memorable to everyone that sees it.

The method we use is called brilliant cutting. We first cut a V groove in the glass in the shape of your design, then grind this groove and polish it so that it becomes clear again.

You can leave the glass just like that, but we use many other techniques to add even more style to the piece, such as etching and gliding.

Brilliant cut glass has a vast amount of uses in restaurants, as we are sure you are aware. It adds style and unique character to a restaurant while also being fictional. We can help you create a new piece of brilliant-cut glass for your restaurant or replace an old part that has been damaged.

To find out more about our brilliant-cut glass service, please do get in touch. We will be happy to help in any way we can.

Brilliant Cut Glass panels
Brilliant cutting is an extremely skilled and artistic process. It is derived from an age-old technique that has been passed down and taught throughout the years. Brilliant cutting is the process of creating designs on glass and mirrors and doing it all by hand, creating an impeccable finish.
These striking designs are achieved by cutting into the glass. Our brilliant cutters can work with you to create the brilliant-cut design of your dreams, whether that's a simple mirror border or an intricate pub window.
Brilliant cutting is excellent for door panels, mirrors, restaurant windows and pub windows. Combine your brilliant-cut design with a sandblast or acid finish to create an obscure background.

We can recreate or take inspiration from incredibly detailed authentic Victorian etched glass designs created in the Victorian era to provide your home or business with an opulent and traditional style.
Edwardian etched glass
We can also create styles inspired by the Edwardian period to bring a classical flair to any space.

Contemporary etched glass
We can provide modern and contemporary bespoke etched glass designs that are ideal for doors and large windows.

Brilliant cut glass mirrors
Handcrafted brilliant-cut glass designs are the perfect way to embellish any mirror. Whether it's polished or frosted, we can produce magnificent results by diamond cutting into the glass surface area to form squares, diamonds, freeform borders or uniquely elegant custom designs.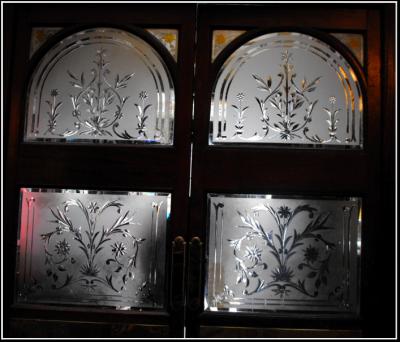 Traditional glass designs have been a popular trend in recent years. As handcrafted brilliant-cut glass can be a rare skill, our services are often sought after. We can incorporate the brilliant-cut technique with various other methods such as acid etching to achieve an incredible array of glass effects.